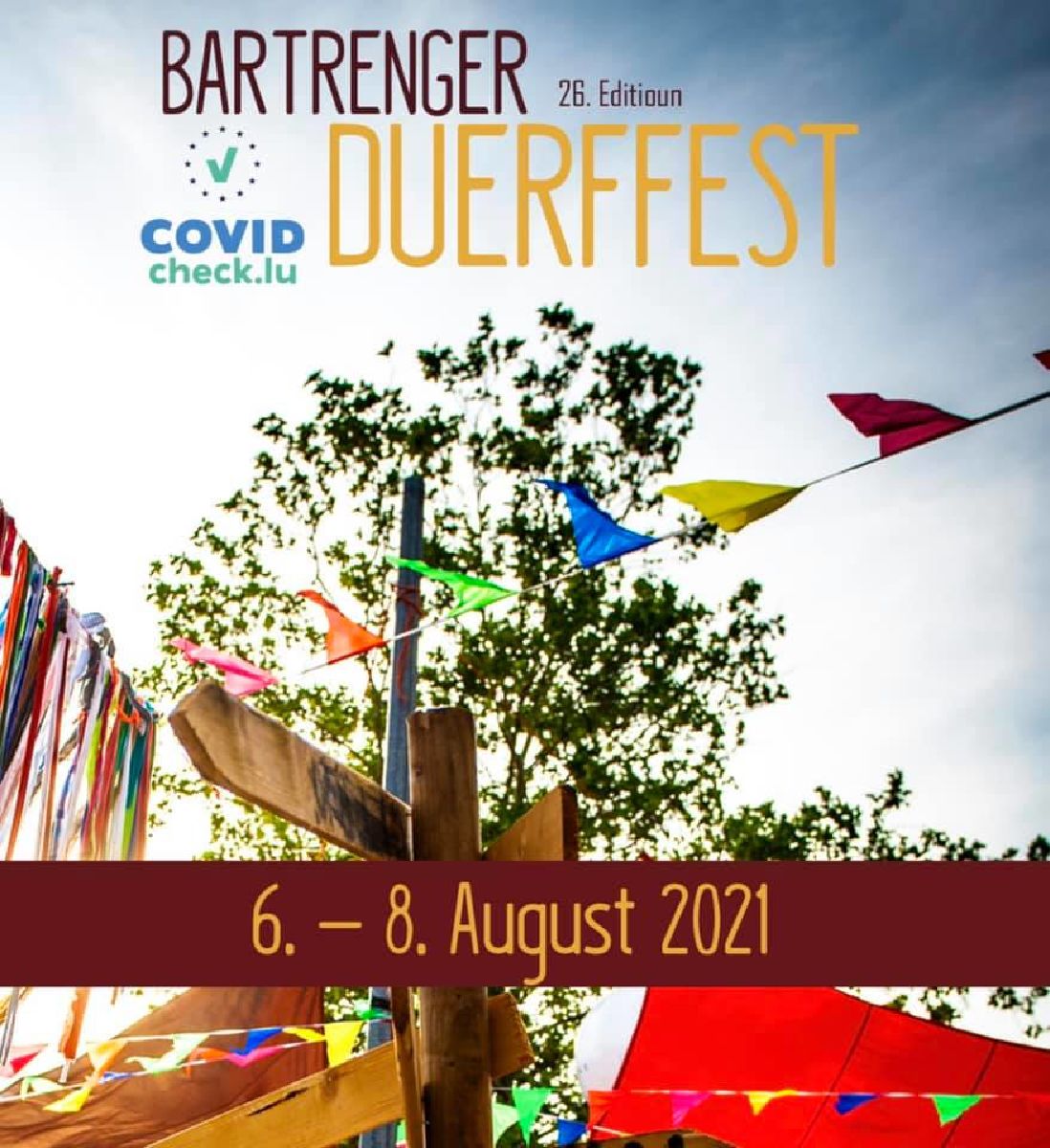 Bartrenger Duerffest 2021 mam DT Frënn Bartreng!
Léif Frënn vum Bartrenger Duerffest,
[ENG, DE, FR version below]
Duerch déi rezent Entwécklungen an de Moossname vun eiser Regierung ass et eis dëst Joer nees méiglech een Duerffest op de Wisen am Duerfkär ze organiséieren. Ënnert de strengsten hygienesche Virschrëften an dem obligatoresche Covid-Check kënne mir vum 6. - 8. August eng maximal Unzuel vun glaichzaiteg 1.000 Visiteuren op d'Duerffest zu Bartreng loossen.
Et ass eis gelongen a kuerzer Zäit nach e flotten an ofwiesslungsräiche Programm an Zesummenaarbecht mat alle bedeelegte Veräiner op d'Been ze stellen, a mir hoffen Dir freet Iech genau esou dorop wéi mir.
Bis dohin, bleift gesond!
Der Zugang zum Gelände ist nur mit Nachweis des 3G COVID-CHECK möglich. Für Personen, die diese Kriterien nicht erfüllen, kann am Eingang ein kostenpflichtiger Schnelltest unter Aufsicht durchgeführt werden. Im 3G COVID-CHECK-Regime sind dann Distanzierungsmaßnahmen und das Tragen von Masken nicht mehr obligatorisch. Die Anzahl der gleichzeitig anwesenden Personen ist auf maximal 1000 begrenzt. 
L'accès au site est uniquement possible après vérification du 3G COVID-CHECK. Pour les personnes qui ne répondent pas à ces critères, un autotest payant peut être réalisé sous surveillance à l'entrée. En régime du 3G COVID-CHECK, les mesures de distanciation et le port du masque ne sont plus obligatoires. Le nombre de personnes simultanément présentes est limité à 1000 personnes au maximum.
Access to the event is only possible after verification of the 3G COVID-CHECK. For people who do not meet these criteria, a fee required supervised self-test can be performed at the entry. In the 3G COVID-CHECK regime, distancing measures and the wearing of masks are not mandatory. The number of people present simultaneously is limited to a maximum of 1000 people.